Saber Beam Company Limited
As Saber Beam Co., Ltd.'s mission is to be the key to our customer's media success, we're highly enthusiastic in implementing our resources, experience, and know-hows in the field into our customers' projects, making sure that you can communicate with your targeted group effectively and with impact.
Requirement Briefing
We listen to your needs carefully and add touches of professional suggestions to create the desired results.
Design, Production, and Development process
Our professionals will co-plan the design, production, and development process to plant the concepts strongly into the final product.
Select the materials to match our customers
We thoughtfully select the materials to match our customers' media projects, objectives, and expectations.
Modern machinery
In Saber Beam's production process, we implement modern machinery for standard outcomes.
Real-time shipping
Punctual deliveries are part of our reputation. We even offer a real-time shipping status for customers to track.
Expert and timely installation services
Expert and timely installation services are carried out by Saber Beam's trained staff for the highest level of safety and functionality.
Innovative media for today's world. We are able to satisfy customer demands in advertisement and publications with innovation and imported machines to create media with impact and fulfilling purposes.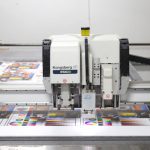 Saber Beam is where proficient staff, cutting-edge technology, and impressive printing innovations are combined, enabling all our 4 production lines to have a competitive edge and fulfill your media and advertisement requirements.
Silkscreen printing's distinctiveness is its long usage and suitability for large work scales, POP & POSM advertising material such as awnings, Japanese flags, bunting flags, posters, and more.
Inkjet printing is the perfect solution for high definition and colorful tasks. With this method, a variety of surfaces and materials can be printed. It is also popular for POP & POSM advertising material and outdoor media such as awnings, banners, Japanese flags, bunting flags, stickers, posters, shelf talkers, tent cards, to arched showcases.
We are able to produce large signs and billboards with strong structures or frames. Installations are carried out by trained professionals to meet safety standards.
Apart from advertisement media, our Company is also an experienced consultant, designer, and installer of interior media placement and decoration within buildings, hospitals, hotels, and other establishments. With our experience and talents, our media not only attracts attention to communicate your desired message but will also act as a purposeful decoration for your space.